Prevention of viscosity loss upon tinting in waterborne coatings
Harrison Gallantree-Smith | November 2, 2021
---
With an increasing trend to more environmentally friendly and low VOC paints, waterborne coatings are becoming more favoured over solvent-based coating, due to their lower solvent concentration.
This reduced solvent concentration allows for a more friendly working environment for the end-user of the waterborne coating and allows the manufacturer to adhere to the environmental compliance driven by current government policies, such as microplastic elimination.


Watch our marketing trainee Marius and research scientist Harrison discuss the topic on the
15th edition of Topic Tuesday!
One problem associated with waterborne coatings is the reduction of viscosity during the introduction of universal colorants into a base paint. Waterborne coatings commonly use associative thickeners, such as HEURs, as their rheology modifiers. These allow a thickening effect within the coating due to interaction with the latex particles of the binder. When a universal colorant is introduced to the base paint this associative thickening becomes disrupted. This is mainly due to the surfactants present in the tint paste. This disturbance in the associative network leads to a loss in viscosity, reduction in sag-resistance and storage stability as well as poor brush loading, which in-turn reduces the quality of the waterborne coating.
One method to avoid loss in viscosity in the waterborne coatings after tinting, is to use microfibrillated cellulose (MFC) as a low shear thickener. MFC is a sustainable, innovative, biobased, and bio-degradable material consisting of water suspended non-soluble cellulose microfibril bundles. The two figures below show a comparison of the shear viscosity of two waterborne coatings before tinting (Figure 1) and after tinting (Figure 2) with a black pigment. One contains a HEUR (square) and the other MFC (dot).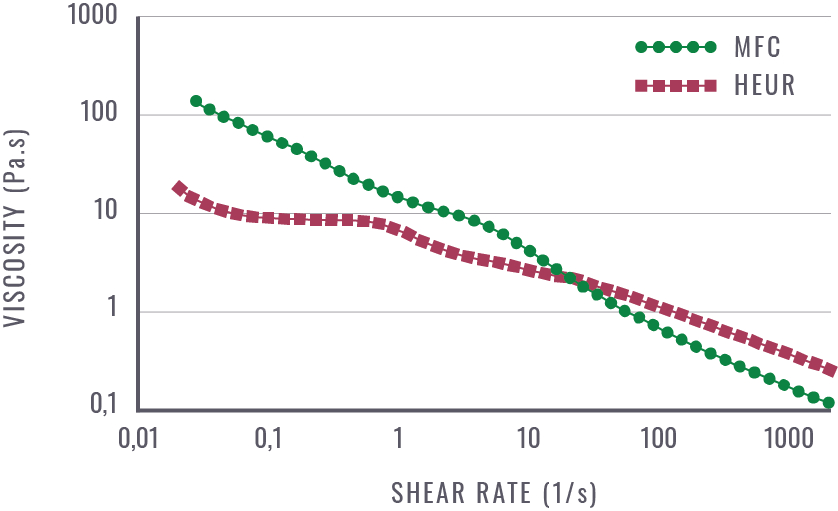 Figure 1: Shear curves (0,02-2000 1/s) of the untinted paints (Exilva dot and HEUR square).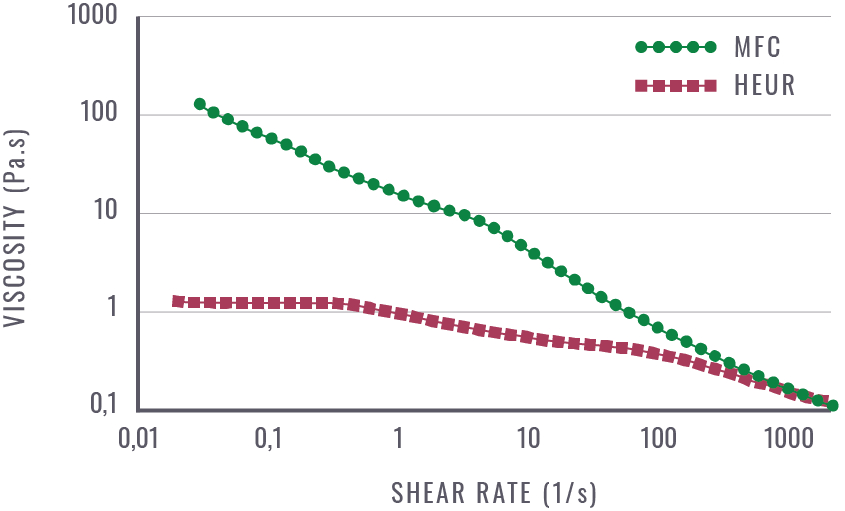 Figure 2: Shear curves (0,02-2000 1/s) of the tinted (black) paints (Exilva dot and HEUR square).

Before tinting, the paint containing MFC has both a superior shear-thinning and low shear viscosity compared to the HEUR based paint. After tinting, the HEUR based paints´ low shear viscosity drops dramatically whilst the viscosity of paint containing MFC is maintained as before. Along with other added benefits, such as improved storage stability and synergies with sagging and leveling, MFC is a potent bio-based additive dramatically enhancing the properties and sustainability of waterborne coatings.

Eager to learn more? You can download our technical bulletin from the link below! You can also leave a comment in the section below, and we'll get back to you as soon as possible.

Don't forget to subscribe to the blog for our latest updates and findings!
You can also follow us on LinkedIn to stay updated!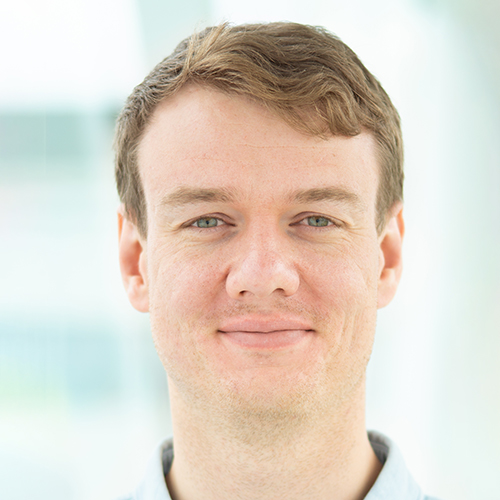 Written by:
Harrison Gallantree-Smith
Harrison Gallantree-Smith has been working as a researcher with Exilva, specifically with coatings, construction and agchem applications since 2017. He has established an extensive knowledge of each of these application areas and how Exilva can benefit them. Harrison has also worked closely with customers on industrial partner projects and with research institutes to give guidance and advice with Exilva. Harrison has a Masters in Chemistry from UCL (University College London) and a PhD in Organic Synthesis from NMBU (Norwegian University of Life Sciences).
---